Simon Dinnerstein - News
The Fulbright Triptych - The Suspension of Time
---
Museum and Gallery Listings, The New York Times, Roberta Smith
Simone Dinnerstein • Simon Dinnerstein • In Conversation • Consulate General of Germany
Peter Trippi, Savoring Simon Dinnerstein's Fulbright Triptych, Fine Art Connoisseur
James McElhinney, audiocast, Interview: Simon Dinnerstein and The Fulbright Triptych
Francis Cunningham, video, Simon Dinnerstein Exhibition at Tenri Gallery....A Walk Through
The Fulbright Triptych, with 33 details of the painting
Kaitlin Pomerantz, Luck of the Paint, an interview, BOMBlog
Elana Hagler, Pursuing Humanity: An Interview with Simon Dinnerstein, Painting Perceptions
Press Release, The Supension of Time, Milkweed Editions, 2011
Roberta Smith, senior art critic, The New York Times
Donald Kuspit, contributing editor, Artforum
James Panero, senior art critic, The New Criterion
John Russell, senior art critic, The New York Times
David Cohen, The Art of Simon Dinnerstein by Guy Davenport, artcritical
Eric Herschthal, The Jewish Echoes in 'The Fulbright Triptych,' The Jewish Week
Jonathan Liu, Simon Dinnerstein Says: Lethem, Lahiri, .... A Painter's Gospel, New York Observer
Rebecca Park, The Fulbright Triptych: Portrait of the Young Man as an Artist, Diplomatic Courier
Mark Naison, If Floors Could Talk What Stories They Would Tell: Memories of Brownsville,
Erte deGarces: The Suspension of Time, NY Arts Magazine, editor, Jason Stopa
Jed Doughtery, Cousin Corinne's Reminder, South Brooklyn Post
Simon Dinnerstein, A Letter to William Hull, (The Suspension of Time)
Year's Best Reading 2011: Editor's Picks, The Barnes & Noble Review
The New York Times Book Review: Fiction Chronicle
Publisher's Weekly, The Suspension of Time
Elissa Schappell, Hot Type, Vanity Fair
Press Release, The Suspension of Time, Milkweed Editions, Victoria Meyer, VM/PR
Excerpts and quotes: THE SUSPENSION OF TIME, Milkweed Editions
George Tooker, Jonathan Lethem, J.M. Coetzee
Elizabeth Broun, Virginia Mecklenburg, Grady Harp, Vanity Fair
Jhumpa Lahiri, The Space Between the Pictures, (The Suspension of Time)
Anthony Doerr, You Are the Printmaker, (The Suspension of Time)
Edward J. Sullivan, The Theology of Art, (The Suspension of Time)
Guy Davenport & Simon Dinnerstein, An Exchange of Letters, (The Suspension of Time)
The Keys To Their Success Simon & Simone Dinnerstein, Chuztpah Magazine
Simone Dinnerstein, The Life of Things, (The Suspension of Time)
Thomas M. Messer, No One Could Accuse, (The Suspension of Time)
---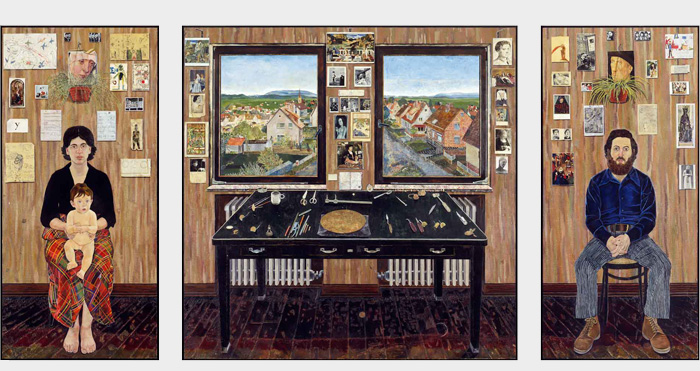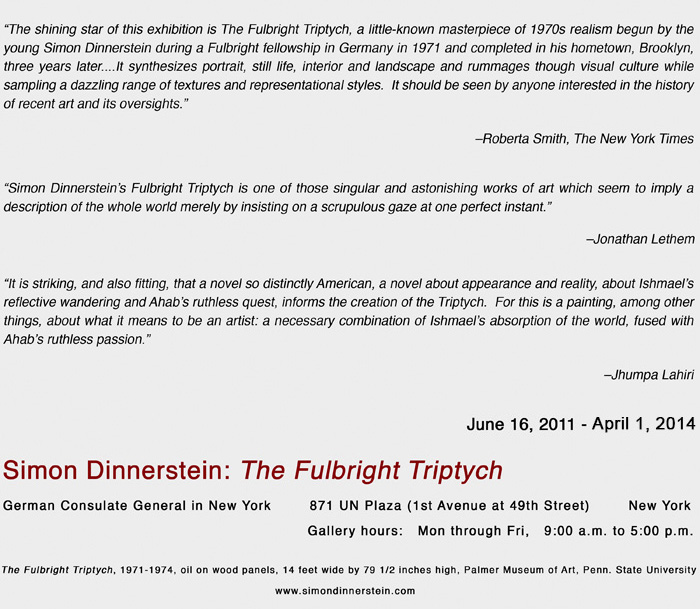 ---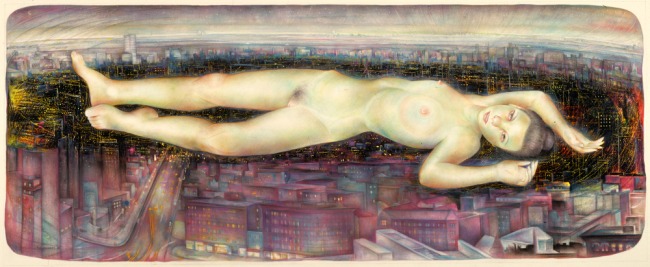 Simon Dinnerstein - Open Studio
http://www.gobrooklynart.org/studio/SimonDinnerstein


September 8 - 9, 2012 Hours: 11 am --- 7 pm


415 First Street
Park Slope, Brooklyn, NY

GO: a community-curated open studio project • Brooklyn Museum
---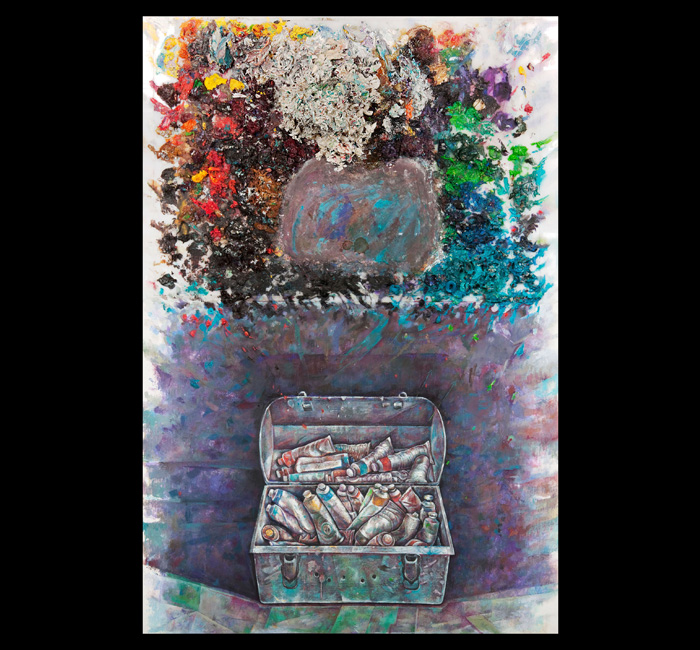 SIMON DINNERSTEIN
In Dreams Begin Responsibilities
2008, oil on plexiglas palette and wood panel, 33 3/8 x 22 x 5 inches
THE ANNUAL: 2012
CONTEMPORARY SINCE 1826
a group exhibit
January 25 - April 29, 2012
Wed - Sun, 11am - 6pm
Opening Reception:
Tuesday, January 24, 2012
6:00-8:00 P.M.
NATIONAL ACADEMY MUSEUM
1083 Fifth Ave. at 89th Street New York, NY 10128
---
Music and Art: Simone and Simon Dinnerstein at the German Consulate General
(© Simon and Simone Dinnerstein)

The German Consulate invites you to a conversation between visual artist Simon Dinnerstein and classical pianist Simone Dinnerstein on the kinship between their work and how it has evolved from their father-daughter relationship. The discussion will be moderated by radio personality and news anchor Robin Quivers. Free admission, RSVP required to

[email protected]
The evening will begin with a performance by Simone Dinnerstein of three of Bach's Chorale Preludes and Schumann's Fantasiestücke. Following the on-stage discussion and a Q & A with the audience, Simon Dinnerstein will sign copies of his new book, The Suspension of Time: Reflections on Simon Dinnerstein and The Fulbright Triptych.
Artist websites:
www.simondinnerstein.com
www.simonedinnerstein.com

Location and time: Tuesday, July 26, 2011, 6 p.m.
German Consulate General
871 United Nations Plaza (49th Street and 1st Avenue), New York
Free admission. RSVP required.
To RSVP, please send an e-mail with your name and the names of any guests to
[email protected]

The event takes place in connection with the exhibition
Simon Dinnerstein-The Fulbright Triptych and Selected Works,
which will be on view through September 15, 2011 at the German Consulate General.
---

---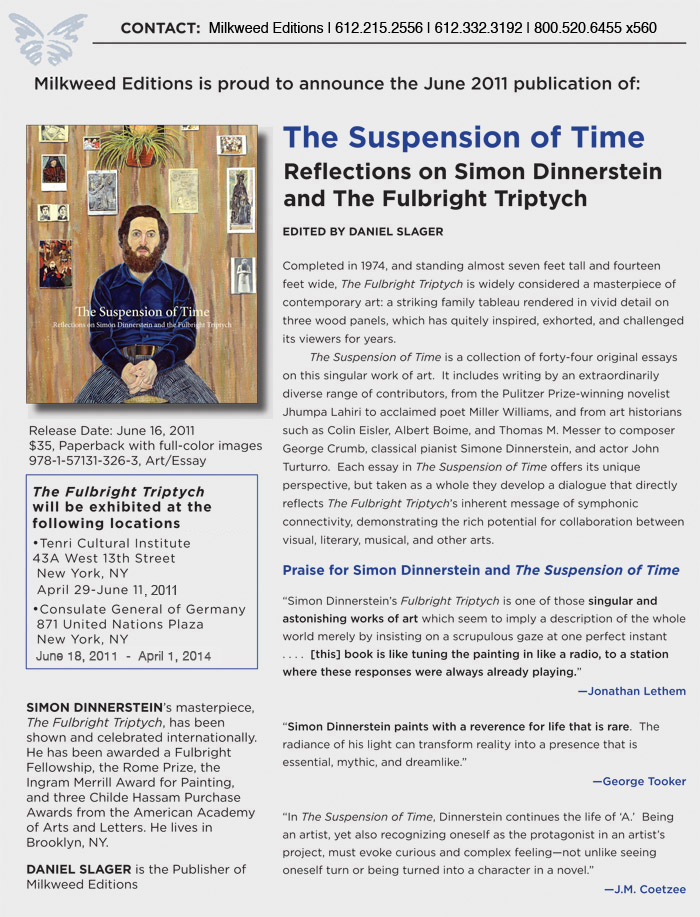 ---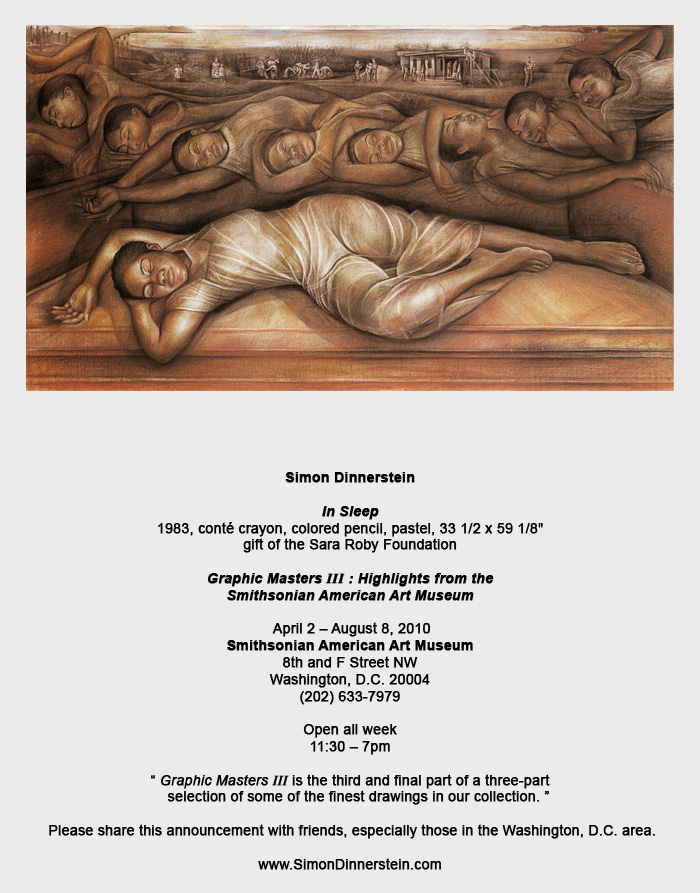 ---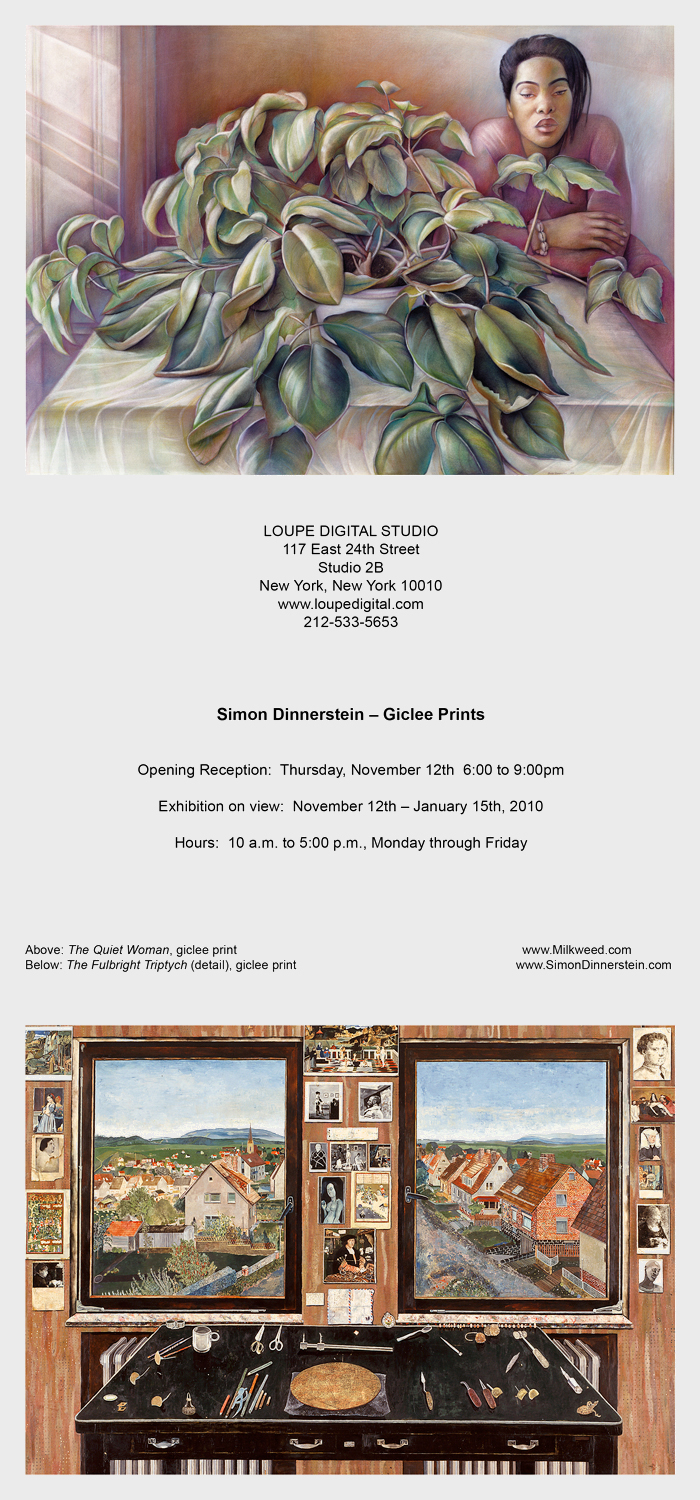 Chris Daciuk, co-owner of Loupe Digital, has administered and maintained the website of Simon Dinnerstein. In addition, he has printed a dramatic series of giclee or inkjet prints of Dinnerstein's work. These prints are richly produced with permanent inks on archival paper.
Milkweed Editions is an independent literary press based in Minneapolis. Since its founding in 1979, Milkweed Editions has published some 250 titles, and they currently publish 15-20 books yearly. A nonprofit organization, Milkweed is funded by revenue generated by sales of the books it publishes, and by the generous support of individuals and institutions across the country.
In early 2011, Milkweed Editions will publish an anthology of reflections on Simon Dinnerstein's monumental painting, The Fulbright Triptych. Using The Fulbright Triptych as a prism or point of meditation, a wide range of contributors—including, among others: Jhumpa Lahiri (author), John Turturro (actor), George Crumb (composer), John Russell (writer, art critic), Edward Sullivan (art historian, writer), Guy Davenport (essayist), Dan Beachy-Quick (poet, essayist), Dinitia Smith (author), Colin Eisler (art historian), Phillip Bruno (gallery dealer), Louis Menashe (film critic), Anthony Doerr (author), Rudolf Arnheim (psychologist, writer), Thomas M. Messer (Director Emeritus, Guggenheim Museum), Albert Boime (art historian), Virginia Bonito (art historian), Thalia Vrachopolous (art historian/curator), Nancy Ekholm Burkert (artist/illustrator), Mary Pope Osborne (author), Daniel Mark Epstein (poet/biographer), Alvin Epstein (actor), Robert Beaser (composer), Valerie Sayers (author), Michael Feldberg (historian), Miller Williams (poet) and Simone Dinnerstein (pianist)—will illuminate this American masterpiece in fascinating ways.
This painting and details can be seen at: www.simondinnerstein.com/the_fulbright_triptych.html
Loupe Digital is pleased to present this exhibition and sale of Simon Dinnerstein's giclee prints as a benefit for the upcoming book. During the course of the exhibit, the prints will be reduced in price.
All prints, including a recently produced large-scale giclee of The Fulbright Triptych can be viewed at: http://www.simondinnerstein.com/prints.html
---
TABLA RASA GALLERY
presents
ABOUT FACE
November 4, 2009 - January 23, 2010

Artists Reception: Wednesday, November 4, 5:30 - 8:30 PM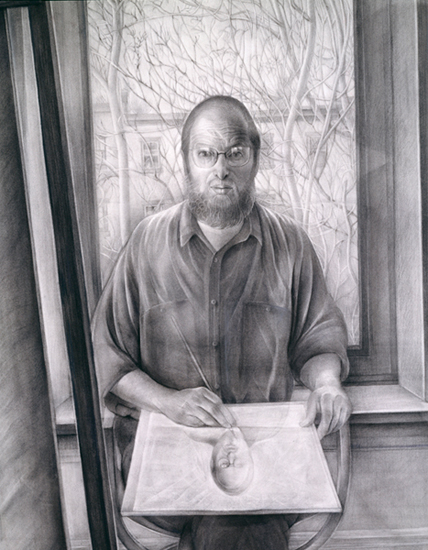 Simon Dinnerstein, Rear Window (detail), pencil , powdered graphite , 75 3/8 x 40"
LINK to HI RESOLUTION IMAGES for PRESS


Gallery hours: 1:00 - 5:00 pm
THURSDAY, FRIDAY & SATURDAY
Call 718.833.9100 for events and schedule updates.

TABLA RASA GALLERY
224 48 Street (between 2nd & 3rd Avenues)
Brooklyn, NY 11220

718. 833-9100

[email protected]
http://www.tablarasagallery.com/


FREE
ABOUT FACE
Opening at Tabla Rasa Gallery on Wednesday, November 4th, ABOUT FACE offers selections curated to turn around the viewer's expectations of the human face in art. Whether obscured, distorted, psychologically askew, or oversize in scale, none of the works resemble traditional portraiture.

Renowned Brooklyn artist, Simon Dinnerstein has had eighteen one-man exhibitions and has received a Fulbright Grant to Germany and a Rome Prize to work in Italy at the American Academy in Rome. Dinnerstein has been the subject of two monographs on his work (University of Arkansas Press and Hudson Hills Press).

A third book is planned for early 2011 by Milkweed Editions (Minneapolis).This book will be in the form of an anthology of writing focusing on a major painting of his, The Fulbright Triptych. It will consist of 42 essays using his painting as a prism or point of meditation. The Triptych, which is 14 feet in width, can be viewed at: http://www.simondinnerstein.com/the_fulbright_triptych.html New York exhibits of the triptych are being planned to coincide with the publication of this book in 2011.
The works in this exhibition demonstrate his mastery at balancing drama and subtlety, with the seductive finesse that followers of his work will recognize as his unique signature.

Among the other artists exhibiting in ABOUT FACE are Jeannine Bardo, Stephen Basso, Anita Giraldo, Clarity Haynes, Kiseok Kim, Alexandra Limpert, Alex Pimienta, David Prifti, Stuart Shedletsky, and Larry Siegel. Original contemporary paintings, photographs, sculptures and works on paper will be on display.
The gallery is located two "D" or "N" express subway stops from Manhattan to the 36th Street Station plus one "R" stop to 45th Street.

Ample street parking is available.

Tabla Rasa Gallery is free and open to the public. There will be an artists' reception on Wednesday, November 4th, from 5:30 until 8:30 pm. General gallery hours are Thursday, Friday and Saturday 1:00 until 5:00 pm. ABOUT FACE remains on view through January 23, 2010.

Call 718.833.9100 for additional hours, events, and schedule updates.
---
---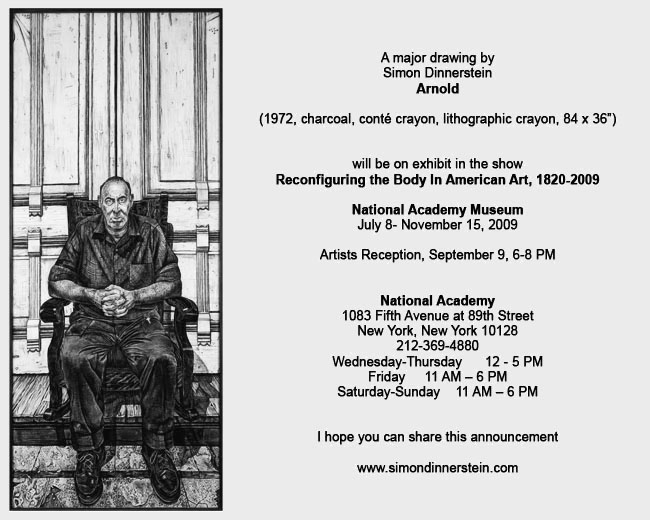 ---
In celebration of this new website a recent series of giclee prints on archival paper will be presented. More information about these prints can be found by clicking on Prints. Among the seven new giclees are:

| | |
| --- | --- |
| Gregory's Party | Sonatina |
| Winter Apples | The Quite Woman |
---
April 17, 2008 - Fifteen paintings and drawings of Simon Dinnerstein will be exhibited at the Rainbow Room
ROBIN QUIVERS TO HOST CHARITY EVENT
A NIGHT OF MUSIC AND ART WITH THE DINNERSTEINS ON APRIL 17TH
AT THE RAINBOW ROOM IN NEW YORK
New York, NY - Howard Stern Show Radio personality Robin Quivers and her charity-focused dinner committee Girls Night Out will host A NIGHT OF MUSIC AND ART WITH THE DINNERSTEINS, which takes place on April 17th at the Rainbow Room in New York City. The dinner will benefit Healing Bridges, a non-profit organization that creates jobs in Africa for women to support themselves and their families and help fund their new business ventures. For more information on Healing Bridges go to www.Healingbridges.org.

The evening will feature the music of Simone Dinnerstein, the acclaimed American concert pianist who the New York Times called an artist "poised for a breakthrough," and whose recent recording of Bach's Goldberg Variations earned the No. 1 spot on the Billboard Classical Chart in its first week. The night will also feature the art of her father, the celebrated painter Simon Dinnerstein of Brooklyn, NY whose work has been featured around the world.

Cocktails begin at 6pm, followed by dinner and the performance. Special celebrity seating will soon be available on www.charityfolks.com. VIP tickets are $1000 and all other seats are $350. Information on purchasing tickets can be obtained via email to [email protected] or by telephone at 646-435-1548.
---
May – early summer – Tabla Rasa Gallery will present Bridge as Icon, an exhibit to celebrate the 125th Anniversary of the Brooklyn Bridge.
| | |
| --- | --- |
| Purple Haze will be on display. A giclee print of Purple Haze will be available from the artist and at Tabla Rasa Gallery during the exhibit. For more information about this exhibit and for directions to the gallery, go to HYPERLINK "http://www.TablaRasaGallery.com" | |