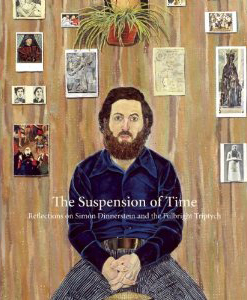 The Suspension of Time:
Reflections on Simon Dinnerstein and The Fulbright Triptych
Edited by Daniel Slager
Milkweed Editions, 2011
This 360-page anthology features over 40 essays (accompanied by 70 illustrations, 59 in color) in which novelists, poets, composers, musicians, art historians, art critics, actors, and others offer their unique perspectives on the artist's monumental painting, The Fulbright Triptych. Among the contributors reflecting on the Triptych—a collage-like composite of family portrait, still life and landscape, as well as a meditation on the creation of art--are Jhumpa Lahiri, Anthony Doerr, John Russell, Colin Eisler, George Tooker, Thomas Messer, and George Crumb.
"Simon Dinnerstein's Fulbright Triptych is one of those singular and astonishing works of art which seem to imply a description of the whole world merely by insisting on a scrupulous gaze at one perfect instant. It functions as a time capsule and a mirror for its viewers souls, and so despite personal and historical referential elements has become permanently contemporary and universal. No surprise that it has now served as a point of instigation for a cycle of astonishing written responses; this book is like tuning the painting in like a radio to a station where these responses were always already playing."
--Jonathan Lethem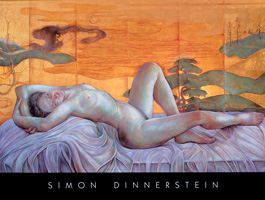 Simon Dinnerstein: Paintings and Drawings
Hudson Hills Press, 2000
This 126-page compendium of the artist's work features 81 color plates (including 3 gatefolds) and 20 black-and-white reproductions. Of particular Interest for students and art connoisseurs are the brief, informative essays by Guy Davenport (The Art of Simon Dinnerstein); Miller Williams (Coming To Know Simon Dinnerstein: The Art and the Artist); John Russell (In Dinnerstein's Painting, an Echo Chamber); Robert L. McGrath (To See and Be Seen: The Fulbright Triptych of Simon Dinnerstein); Rudolf Arnheim (Pictures of the Lasting World); and Edward J. Sullivan (The Urban View in the Art of Simon Dinnerstein).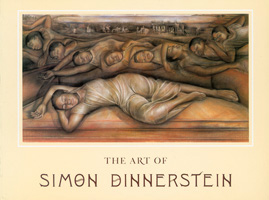 The Art of Simon Dinnerstein
The University of Arkansas Press, 1990
This 288 page monograph features 99 color plates and 49 black-and-white reproductions. The book includes a foreword by Thomas M. Messer, an epigraph by George Tooker, and an introduction by Albert Boime.
"No one could accuse Simon Dinnerstein of being a fashionable artist. Not at the time he began, not now, and not at any time in between. Leafing through the catalogue of his mature work that now spans two decades, one is struck immediately by his total disregard of prevailing taste, his apparent disinterest in the visual arguments of advanced art circles, and conversely, by his single-minded concentration upon the development of a highly personal, creative pursuit....it will be of real interest to follow Simon Dinnerstein's art as it evolves further."
Thomas M. Messer