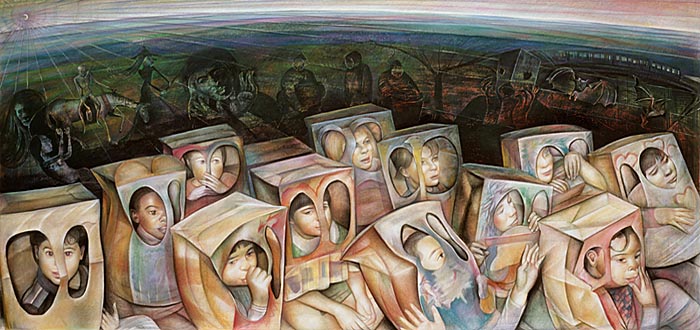 Night
I have always been intrigued by the world of childhood and by children's art. This is probably due to a few factors: observing my daughter's creation of a fantasy world made of tiny toy animals, dolls and a 'secret' language; listening to my wife's stories about the children in her pre-kindergarten and kindergarten classes; remembering my own deep feelings of the beauty, fears, secrets and pathos connected with my childhood.
In addition to Night, I've attempted to evoke this magical childhood world in other works such as in Gregory's Party and in The City, the Town, the Emperor of China. My large painting, The Fulbright Triptych, has numerous references to young children – from recreations of children's drawings to an example of a first-day-of-school writing lesson.
Night was inspired by a production that my wife's students put on in their pre-kindergarten classroom. The scene was charged with energy, excitement, enthusiasm… and anxiety. The elemental force and anima of these four-year olds were palpable. The children made masks from large paper bags. Their eyes, noses and mouths mysteriously peered out of the large oval openings cut into the center of the bags. My wife noticed that the children were impatient to put the masks on. Once they were inside them, however, they grew nervous and were quick to take them off.
Sometimes the artist is fortunate to be in the right place at the right time such as with this event. The image that I saw literally called out to me. What if there was a release of this energy within a picture? What anxieties and secret passions did these children invoke? What in my own background related to this? As a child growing up in Brooklyn, how did this secret 'night-world' manifest itself – deep within subways, behind masks, riding with skeletons and witches?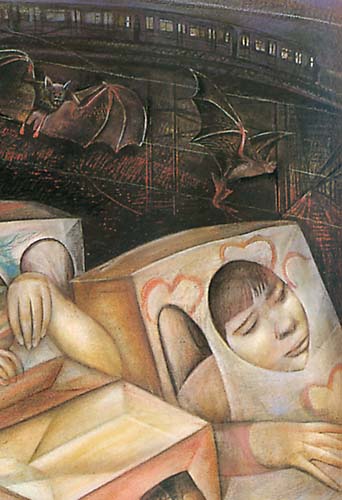 From these thoughts grew Night, my meditation on childhood. Memories of my childhood fears and excitements began to flood my mind. Many of these ghostly anxieties haunt the procession that swirls around, behind and over the young children in the picture: skeletons, demons, witches, bats, masks, beekeepers and, most importantly, the El, the subway which takes the viewer screeching off and out of the panoramic landscape. Growing up in Brownsville, Brooklyn, this El, which mysteriously disappeared into a tunnel under the street, both intrigued and frightened me throughout my childhood.
I decided to emulate a child's crayon-scratching to represent the dark side of this scene. Thus this composition is not only about childhood, but of childhood in that it literally uses a child's drawing technique with an adult sophistication. Using children's materials (a variety of colors are laid down in Crayola crayon, covered with black tempera or crayon and then scratched through with a pin to reveal the color underneath), the child's world and drawing style merges with the world of fine art.
With its strong surrealist overtones, juxtaposing dream and fantasy, Night unites an organic natural cohesion of the figurative and modernist traditions. Pushing spatial elements to extremes, it makes use of a deep, unusually high landscape punctuated by a crescent moon echoing the drama taking place in the foreground. While working on this piece, I could feel the spirit of Chagall, Ryder, Breughel, Gillespie and Kiefer looking over my shoulder, as well as the writings of Isabel Allende and Mikhail Bulgakov.
Dreams

What wires lay bare
For this short circuit
Which makes filaments flare ---
Can any bulb resist
Sockets whose threads twist
As far as they are spun ---
Who conducts these visits
Swifter than an eclipse
When the moon is overcome?

Samuel Menashe, Collected Poems